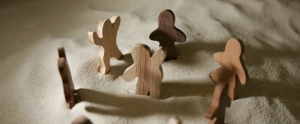 Exploring a Bible narrative with the senses and imagination.
This short day will use Godly Play, which is suitable for people of all ages. It's an approach that engages the senses, imagination and creativity in hearing the message from scripture for us today. This morning will be particularly good if you are new to Godly Play and would like to see how it can be a helpful tool for adults.
Outline of the morning
The morning will begin with gathering in the Chapel with the story of the Exodus presented through Godly Play. There will then be quiet space and an opportunity to respond individually – through creative media, reading, or simply enjoying the time in a quiet part of the house. This is a contemplative exercise where we may discover something new of God or simply a peaceful space.
There will then be an opportunity to share for anyone who wants to.
At the end of the morning we will share a home-cooked meal together.
Suggested donation: £10.
(If the cost is a barrier you are welcome to come and give what you can.)